Food & Drink Manufacturers News, February 12th.
February 12, 2018
The worldwide food and drink industry is a phenomenon.
Of course, with such a globalised marketplace, it was always going to be, but that doesn't distract from just how successful some companies have become at producing food and drink products which can be sold, on masse, around the globe. Such companies have come to shape the way we consume in the modern age.
Here in the UK, we're home to our fair share of those brands and it means over £100bn to the economy every single year, supporting over 400,000 jobs across England.
At Dehum, we're proud to support the industry both at home and abroad with our industry-leading range of food and drink dehumidification and drying solutions. Our models are currently in use across a significant number of British and international brands like Kellog's and Coca-Cola.
Keeping up to date with the latest news from these brands can be difficult though, which is why we regularly round up the biggest news stories from across the industry. Here's the latest news as of February 12th.
Global dairy giant Arla has announced plans to swoop for Yeo Valley Dairies, a subsidiary of the Yeo Valley Group, in an attempt to capitalise on the growing demand for organic dairy products.
There have been no financial details of the deal released, and the deal will only go ahead subject to approval from the Competition and Markets Authority. The deal would give the farmer-owned dairy cooperative the rights to use the Yeo Valley brand in milk, butter, spreads and cheese.
"The potential for future investment in the range through this licensing agreement with Yeo Valley provides a significant opportunity to offer a greater choice to consumers at attractive prices, said Tomas Pietrangeli, managing director at Arla Foods.
"Our ambition is to encourage customers to trade up from standard to organic milk, butter and cheese, driving overall growth for organic across dairy categories."
Mr Pietrangeli added, "Arla organic free-range milk has driven 60% of all the growth within the organic milk category in the past 12 months, with 70% of all Arla organic free-range milk sales attributable to customers who would have not previously purchased organic milk.
"Through the licence to use the Yeo Valley brand, we believe we can further drive organic penetration of the milk market."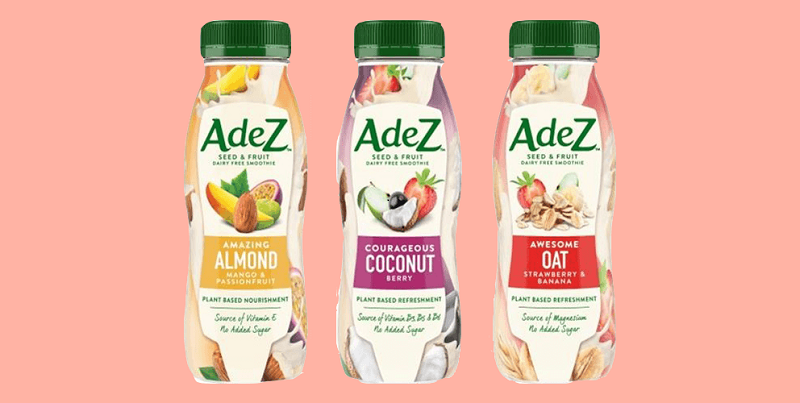 In a bid to move into the growing health and wellness sector, Coca-Cola European Partners will launch its first ever range of plant-based drinks.
AdeZ, as it will be known, is a dairy-free smoothie which contains seeds, fruit juices and vitamins to be consumed on the go. Historically a Latin-American brand, the UK has already experienced an AdeZ brand after one was launched in 2006 as a soya fruit juice drink, before being withdrawn from shelves two years later.
AdeZ will launch at the end of March with three flavours: Amazing Almond Mango-Passionfruit; Mighty Oat Strawberry-Banana; and Courageous Coconut-Berry.
CCEP are bullish about the potential of the brand and intend to launch it with a campaign that stretches across TV, radio and digital.
The UK's organic food and drink market i now worth more than £2.2bn after growing 6% in 2017, driven largely by the rise of online shopping.
Almost 30% of all organic sales now take place online or on the high street, according to a Soil Association Report. The rise is the sixth consecutive year of growth as people return to higher prices organic produce after the economic collapse.
"We know shoppers are putting (an) increasing value on trust, transparency and traceability when making their purchasing decisions," said Clare McDermott, business development director, Soil Association Certification.
"Organic delivers on those values and is also increasingly seen as the healthy and ethical choice thanks to mounting evidence of the difference between organic and non-organic, both in terms of nutrition and environmental impact. This stamp of assurance will only become more important as understanding of organic increases and we look toward the formation of new trade deals post-Brexit."