Ice Prevention for Food Distribution Centres & Cold Stores
Ice prevention in chilled food distribution centres and commercial cold stores presents unique issues. Anywhere that reduced temperatures are required to protect or store chilled, or frozen products have the potential for severe problems concerning:
Ice and snow inside the cold store
Risk of falling ice
Frost shock on product
Failure of door mechanisms
Increased running costs of refrigeration plant
Increased defrost cycles
Health and Safety
Each time a door is opened to a cool or cold area, air and moisture enter from any adjacent untreated source. This air is then rapidly cooled, and the water contained within it is deposited on the coldest surfaces. Depending on the temperature in the room, this moisture will then appear as condensation or frost.
The constant introduction of 'fresh' air will undoubtedly lead to:
Increased downtime
Lower production rates
A higher health & safety risk
Increased costs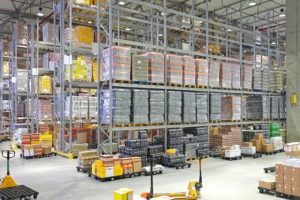 In these instances, the use of a DEHUM desiccant dehumidifier deals with the moisture at the source, and the DEHUM units create a low dew point in the air in any adjacent areas. Meaning when the doors into the cold rooms are opened, there is insufficient moisture to condense or freeze on any surfaces.
The dew point control built into the software in every DEHUM solution ensures only the minimum amount of energy is consumed to create the condition needed to overcome the risk.
We have a range of dedicated cold store machines developed to deal with the rigours of installations in these hostile environments and effectively manage the humidity within cold storage.
Blast freezers and spiral freezers also benefit from applying a DEHUM solution. Ice is formed as part of the cooling process, and loads include moisture leaving the product if unwrapped. Due to the feed belts also having open apertures, there can be high levels of moisture infiltration.
The ice formed by these high moisture loads presents a serious issue and can lead to the need for a total shutdown of the line. Time then spent de-icing reduces production throughput, costing time and money.
At DEHUM, we have a unique approach to these applications, and typically our design will allow the lines to run longer so that production can continue with fewer interruptions. Result? Increased production and direct savings.