Sports Halls & Temporary Buildings – Dehumidification & Moisture Removal
Sports halls & temporary buildings or structures are erected to fill a specific requirement for a limited time. For example, corporate & event tents, home showrooms, workshops, tents and car valeting.
The use of these types of buildings is also growing within the sport. Premiership football training grounds are seeing the benefits of being kept undercover, and the Lawn Tennis Association has started allowing training to be carried out in a safe environment. Temporary structures are opening up the way they are used in new and innovative ways. The demands are also improving within this ever-developing business, and DEHUM is here to ensure it's achieved.
Some of the problems that can arise within temporary structures include:
Comfort levels being reduced due to excessive heat, humidity, and dampness arising
Condensation forming on playing surfaces creates a health and safety risk.
In winter, ice can form on the internal structure and fabric.
A threat to the equipment and the actual structure of the temporary building due to condensation
Health & Safety issues arising
Costly Insurance issues
The actual event has to be cancelled if the structure is at risk, leading to a loss in revenue.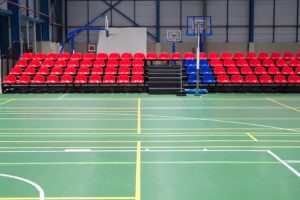 Here at DEHUM, we have installed equipment in many temporary building structures to control moisture. We understand that while the buildings can be vast, space is still at a premium and due to exposed ducting, the aesthetics and noise levels are vital parts of a quality design. Our role is to work with our clients to ensure all these key points are considered in the upfront design. The installed environment control system is an integrated part of the building and becomes part of the structure rather than looking like an afterthought.
DEHUM is here to provide the right environment while making it an integrated part of the building.